Hey there Weekday Warriors,
Let's be honest, there's only one thing that matters right now... the war in Ukraine.

Enjoy the next 4 minutes and 12 seconds of blue-chip news and commentary.

Snap necks and cash checks,
Tyler

PS, my Twitter has been called a 'masterclass in sh*tposting.' If you're into that kinda thing, follow me @JPMorinChase.
Let's check in on the markets...
DOW -1.38% (-9.44% YTD)
S&P 500 -1.84% (-11.91% YTD)
NASDAQ -2.57% (-17.66% YTD)
10-YEAR YIELD (1.99%)
Oh, you thought yesterday was bad?


What about the meme stonks?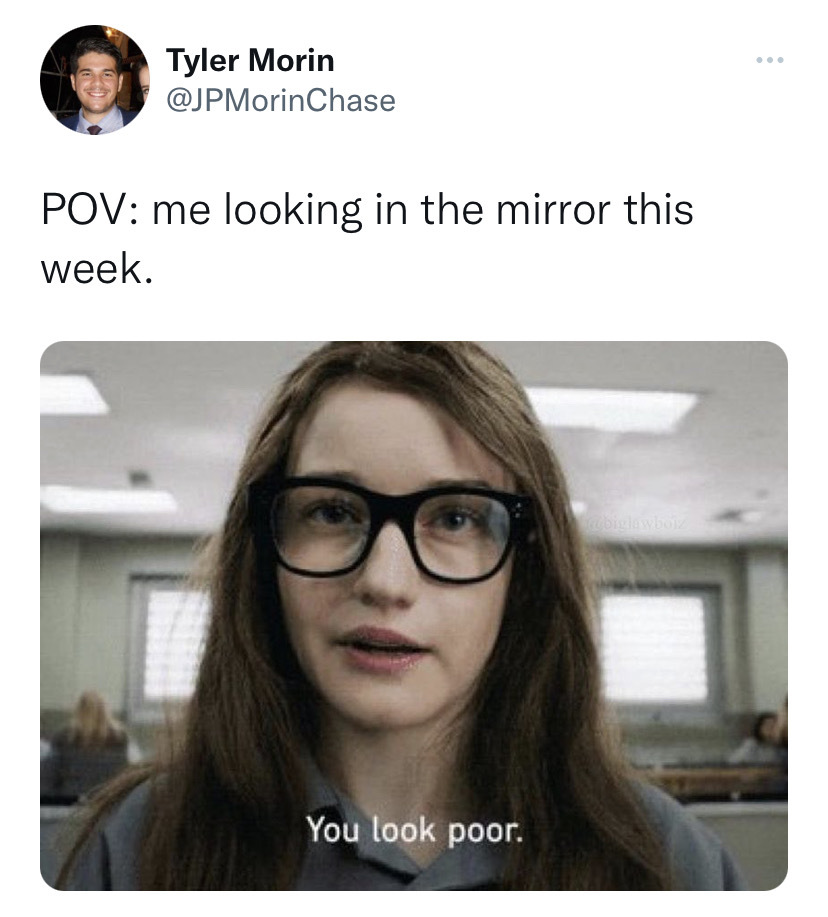 Source: @JPMorinChase
STONKS
1) Tesla ($764.04) -7.00%
2) Palantir ($10.43) -0.48%
3) Clover Health ($2.01) -1.47%
COINS
1) Bitcoin ($37.6k) -0.92%
2) Ethereum ($2.62k) +0.58%
3) Dogecoin ($0.12946) -0.55%
1) Reflects 3 most discussed meme stonks over the past 24 hours
2) Sh*tcoin prices as of 4 PM EST
FORD
So that was a f*cking lie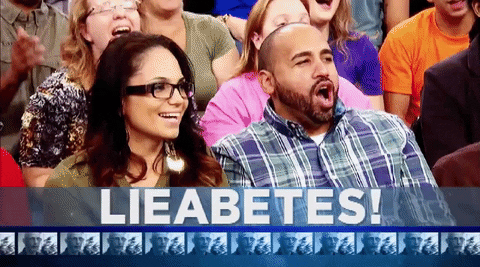 Source: Giphy
Apparently Ford CEO Jim Farley is the kinda guy who'll say "Heyyy" with 3 y's in a text, tell you how much fun he had on a date... then never call you again.

During a virtual conference (read: the worst kind of conferences) Jimmy Motors said he has no intention of splitting Ford into two companies. Despite rumors to the contrary.

Wait, what?

Analysts have been calling for $F to break up into two entities: one producing internal combustion engines and one making electric whips. A Bloomberg report citing internal sources (read: it was made up) indicated Farley was moving forward with going splitskis.

Farley pointed out that Ford's broader operations would be critical to an EV biz, and splitting it off could be complex and costly. Of course, if he really wanted to shut up the peanut gallery he could have simply pointed out that Nikola is also a stand-alone EV company...

For what it's worth, GM CEO Mary Barra echos the sentiment, having indicated in December "I think all the assets we bring to [the EV transition] are stronger, and we can go faster because they're together."

But it might make sense...

So what's an analyst's argument for Ford going the way of Johnson & Johnson? Well, Tesla for starters. The company, which produces nearly 3M fewer cars than Ford hit a market cap north of $1T last year. For context, at one point Tesla was worth more than the five largest car companies... combined.

Not to mention Rivian and Lucid's market cap both surpassed Ford at one point. Woof.

And Ford got a taste of the good life, climbing nearly 40% in the last year thanks to its electric F-150 presales and overpromises.

Shares took their lumps, falling nearly 2% on the day.

Water Cooler Talking Point(s)...

"My disappointment is immeasurable, and my day is ruined." - Tyler, The Water Coolest HQ
WWIII
Battlesh*t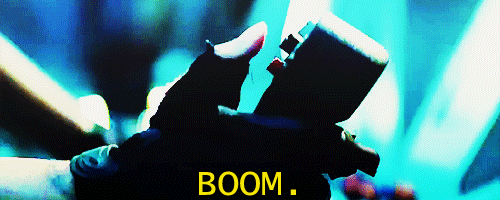 Source: Giphy
If you went to bed last night thinking "this whole Ukraine thing will blow over"... I've got some bad news for you...

Vladimir Putin has gone full send, announcing that the Russian forces would move to "demilitarize and denazify Ukraine." Read: a full-scale invasion is underway.

Reports out of Ukraine indicated that missile strikes were targeting military bases and government buildings. There were also indications (see: large explosions) that major cities, including Ukraine's capital, Kyiv, were under attack.

This probably goes without saying, but pretty much every other country in the world condemned the move. And they've promised to impose additional economic sanctions...

Like putting limits on larger Russian banks, banning certain tech exports to Russia, and halting investments in Russian O&G projects. But things could get complicated if countries like China decide to help Russia circumvent the sanctions. Plus, targeting Russian energy exports could prove difficult considering the EU relies heavily on black gold from the country.

Probably nothing...

US markets were closed when Putin went all "we ride at dawn, b*tches," but futures gave us a sneak peek into just how ugly things are going to be. Dow future dropped 2.04% while the Nasdaq was down 2.25%.

And it appears that nothing is sacred. Bitcoin and Ethereum dropped sharply as investors sought fiat currency that could be used to build fallout shelters.

Oil prices mooned on the news, with the international benchmark jumping above $100 per barrel for the first time since 2014.

Water Cooler Talking Point(s)...

"Have we considered just shutting down the markets like Putin did?" - Tyler, The Water Coolest HQ
PERSONAL FINANCE

+ The one question to ask yourself about your 401(k) when stock indexes are dropping (Read)

+ The S&P 500 Entered a Correction. Here's What History Says Happens Next. (Read)

+ These 2 Stocks Carry a Lot of Risk, but Their Upside Is Huge (Read)

+ Yesterday's most read... Ukraine-Russia crisis: 7 big companies that could be hammered (Read)
TALKING SHOP
"Name something worse than LinkedIn cringeposts..."
Just in case the written content on LinkedIn wasn't unbearable enough, the social network is taking its talents to podcasting...

This is not a drill: LinkedIn is launching its own podcast network. And it will launch 12 shows called "LinkedIn Presents" featuring career influencers and industry execs. Read: the worst kind of people.

The Microsoft owned company is making a push in the content space, having launched a creator program, beginning with video and newsletters.
"Are the mountains blue?" - pretty much everyone any time someone orders a cold lagered, cold filtered, cold packaged Coors Light
If that crispy boy hits a little different at happy hour today, it's because the cheap beer Gods are smiling down on all of us...

You see, shares of Molson Coors Beverage Company had themselves a day, jumping more than 5% after reporting earnings before the bell. But it wasn't because of a particularly impressive Q4 beat...

While sales came in above expectations, earnings per share missed expectations, because, you guessed it... higher costs due to inflation.

So why'd the stock pop?

The brewer is actually delivering on a turnaround plan. That's right, management laid out a plan... and it didn't need to make an excuse for why it didn't pan out. And it's got receipts. In 2021 the maker of ML Smoothies grew sales for the first time in a decade. Net sales grew 6.5%.

In case you were wondering, Molson Coors plans to save itself from going the way of Keystone Ice (RIP in peace) includes diversifying its portfolio. Hence, the recent name change from Molson Coors Brewing to Molson Coors Beverage.

❓ Check out today's EXIT INTERVIEW (see the bottom of this email). I want to know what the king of cheap beer is...
ANYTHING ELSE?
+ Elon Musk has never met an opportunity to troll the SEC that he didn't capitalize on. So when CNBC emailed X Æ A-12's dad about the DOJ investigating Tesla short sellers (as part of a broader investigation), Elon has this to say: "I am greatly encouraged by the Justice Department investigating short sellers. This is something the SEC should have done, but, curiously, did not." Never change, Elon. (Read more)

+ This is why I only invest is shoemakers taken public by Stratton Oakmont. Allbirds got its teeth kicked in after reporting earnings, dropping nearly 7%. The company beat easily on the top line but barely met analyst expectations on profit. But what really worried investors was piss poor guidance provided for the first quarter. (Read more)
EXIT INTERVIEW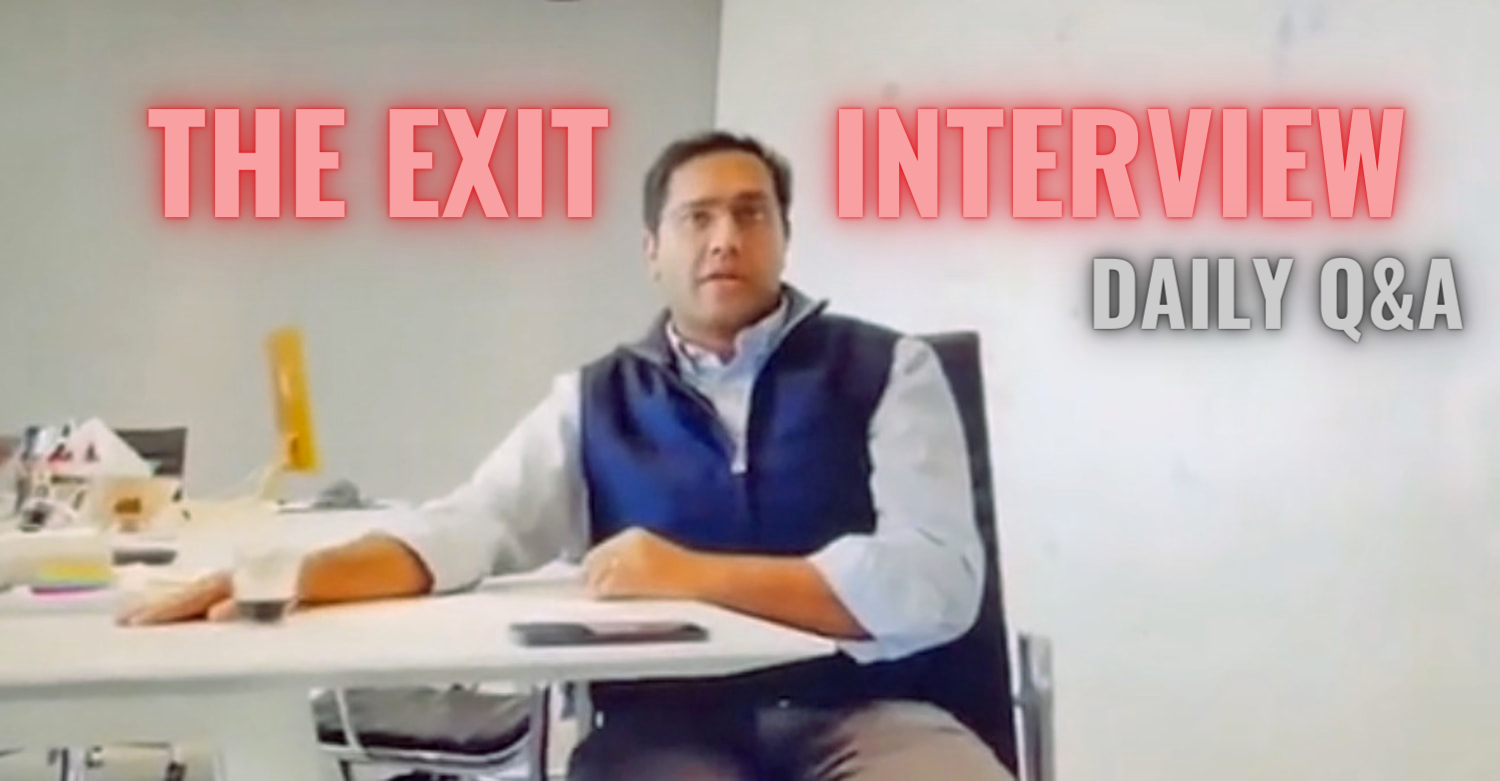 Yesterday I asked...

What's the best fast casual burger in the game?

40.8% of weekday warriors responded Five Guys
27.0% responded Shake Shack
25.1% responded In-N-Out
5.5% responded Fatburger
1.6% responded Other

Absolutely zero love for Fatburger, which makes sense considering its smaller footprint. And only two people responded with luxury boutique burger outlets in their hometown that "I need to check out."

Now let's get into today's question...

Molson Coors' big day has me thinking about the premier "cheap" beer, so...


What's the king of cheap, mainstream beers?

☑️ PBR
☑️ Bud Heavy
☑️ Bud Light
☑️ Coors Light
☑️ Miller Lite
☑️ Busch
☑️ Other (reply directly to this email)

Have an EXIT INTERVIEW question you want to pose to the masses? Submit it here.
© 2022 Barstool Sports, Inc. All Rights Reserved