Hey there Weekday Warriors,
Happy Presidents' Day... to those who celebrate.

But it isn't POTUS that investors will be keeping an eye on this week. Vlad Putin's decision to invade (or not invade) Ukraine could send markets spiraling.

Enjoy the next 4 minutes and 4 seconds.

Snap necks and cash checks,
Tyler
Past performance does not guarantee future results...
The stories from the past week that will have the biggest impact going forward.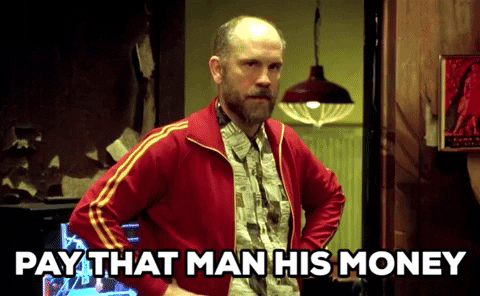 BlockFi is about to pony up... (Source: Giphy)
▶️ Monday, 2/14: Welp, I guess now we know why BlockFi didn't drop $10M for 45-second commercial like pretty much every other player in the crypto space...

It owes the SEC (and some US states) $100M.

BlockFi will pay a record fine (for a crypto company) to the SEC to settle a probe into its lending biz. You see, the crypto management platform was offering lending products that allowed users to collect thicc interest rates on crypto. Just one problem: BlockFi isn't a bank or money manger, which meant it couldn't actually, you know, do that...

▶️ Tuesday, 2/15: Ahead of an all hands meeting to explain WTF a metaverse is to his underlings, Zuck took to Facebook to share some edits to Meta's employee handbook...

Like how from here on out Facebookers will be referred to as Metamates *throws up in mouth a little bit*.

The 'book also announced plans to change the name of the News Feed to "Feed." Sean Parker as played by Justin Timberlake must have told Zuckerberg to "Drop the 'News'. Just 'Feed'. It's cleaner."

▶️ Wednesday, 2/16: The company that gave us Google+ said it plans to implement new privacy restrictions. And it's got nothing to do with hiding your weird kinks on the incognito browser. Google will begin limiting tracking across Android devices... in like two years.

This is a BFD for big tech players and ad platforms that rely on your personal data to make money. Looking at you, Facebook.

▶️ Thursday, 2/17: Another Walmart earnings report, another missed opportunity to announce that the company will finally begin accepting Litecoin...

But Wally World still managed to get investors full torqued. The retailer beat on the top and bottom lines and reiterated its guidance for 2022... which came in above analyst's expectations, for the record.

And the Waltons have one man to thank for their recent success: J-Poww. You see, with inflation at 40-year highs, Americans are hunting for bargains, especially at the grocery store. And since Wally World bends over its suppliers, it's able to keep prices (relatively) low.

▶️ Friday, 2/18: *Nancy Pelosi punching air*

While rumors of Congressional stonk trading limitations abound, the Fed has finally rolled out its plans to keep its leadership out of trouble.

Following a scandal that rocked the Fed and cost two Fed Presidents their job, J-Poww promised to make sweeping changes. And he delivered. While in office, pretty much the only securities Fed officials can hold are index funds.

The nerds running the Central Bank will also need to hold any investments for at least a year, will need prior authorization to buy or sell, and will be barred from trading during "periods of heightened financial market stress."
Forward looking statements...
What we're keeping an eye on in the week(s) ahead.
THIS WEEK
War dogs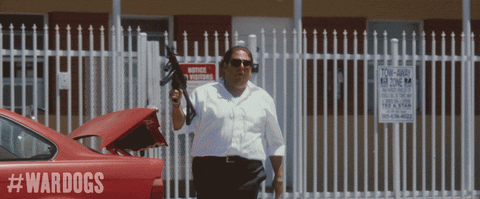 Source: Giphy
"Imminent" is about to go the way of the word "transitory" if Putin doesn't put a boot in Ukraine's ass this week (friendly reminder: J-Poww retired the word "transitory" after months of promising inflation was temporary).

On Friday, Russia carried out more "drills" on the Ukrainian border, presumably out of fear that these elite Ukrainian forces are about to go Zero Dark Thirty on 'em. And after markets closed POTUS addressed the nation and reiterated, once again, that he believes an invasion is imminent. BTW, are we confident he knows what that word means?

Markets fell again on Friday. And we can probably expect more of the same this week. Of course, if all hell breaks loose, all bets are off. It's unclear how markets would react to actual fighting, but oil and defense contractors probably stand to benefit... because tHe MiLITAry INdusTriAL cOMPLeX.

The Fed

J-Poww also continues to weigh on markets. I guess it's true what they say: "You either die a hero or you live long enough to see yourself become the villain."

Until the March FOMC meeting, investors will be guessing (and second-guessing) what moves the Fed will make. Most economists still see only a 25 basis point rate hike, but the crowd expecting a 50 point hike is getting louder.

And a report dropping this week could give us better insight into what tricks Jerry Interest Rates has up his sleeve. The Bureau of Economic Analysis (read: virgins) releases personal consumption expenditures inflation data, which is more closely watched by the Fed as an inflation indicator than even the CPI.

In all likelihood, it will show that the economy is down tremendously, which shouldn't come as a huge shock to markets. What could trip up investors is if sentiment starts to point towards the Fed raising 50 bps... or more (friendly reminder: markets don't love when interest rates go up).

Earnings

While Vladimir Putin and Jerome Powell are the most likely culprits to ruin your week (read: destroy your portfolio) there are a few outstanding earnings reports set to drop as the season winds down.

Home Depot and Lowe's will offer some clues on the housing market and broader economy (read: inflation). There will also be a lot of eyes on Alibaba's earnings as China continues to stuff its big tech players in a locker. And it should be interesting to hear from Coinbase in the aftermath of the OpenSea sh*tshow over the weekend.
THIS WEEK
'Narcos: Mexico' Season 4 looks sick
Our long national nightmare is over.

Avocados have been in short supply since the USDA halted exports from Michoacán, Mexico on February 11th. ICYMI, the reason the US pulled the plug is a plot line straight out of 'Narcos'. Michoacán is the only Mexican state allowed to export avocados. So when a US inspector found other state's avocados at a processing plant he raised red flags.

Turns out the avocado cartels don't like snitches. Soon after the report a threatening voicemail was left for the rat. Apparently, avocado cartels never heard of texting. The US immediately pulled the plug on its operations in Mexico and shut down inspections until it could ensure Uncle Sam's finest were safe.

Luckily for guac lovers, the US and Mexico came to a deal on Friday, just as prices began to spike. It appears that crisis will be avoided this week.
THE FUTURE
The masculine urge to have an EV company valuation...
Jim Farley has an idea so crazy it might just work...

Ford's CEO is reportedly considering spinning off the OG carmaker's electric vehicle biz from the fossil fuel manufacturer. Because "extracting shareholder value... or something or other."

And rumor has it that the company is considering raising capital as part of the deal. Even though the idea has been floated before, investors liked what they heard. Ford jumped on the report it's considering a standalone EV business.

Investors will be waiting to hear more when Jim Farley participates in a fireside chat on Wednesday.
Mark your calendar...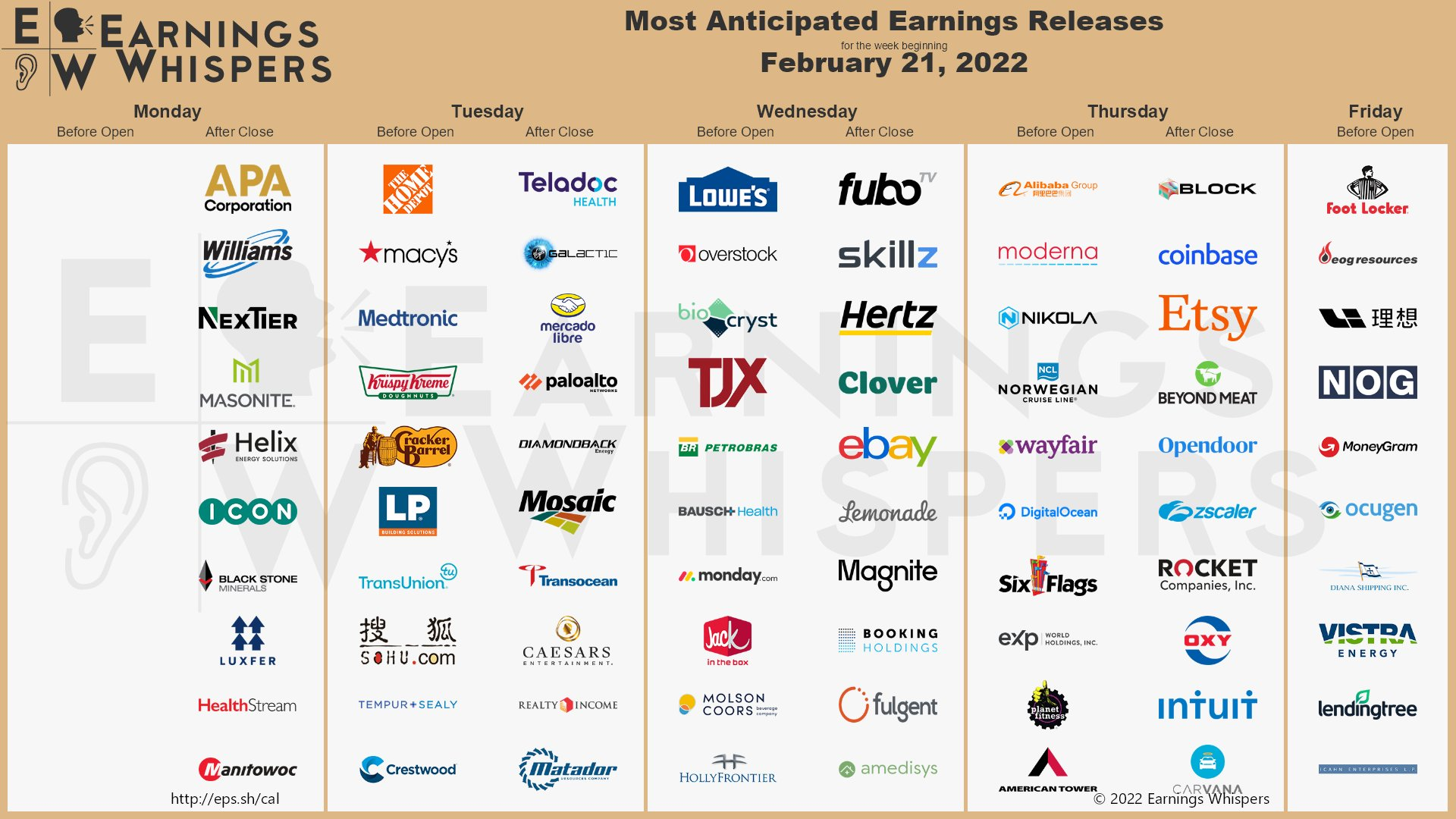 Source: Earnings Whispers
MONDAY, 2/21
Markets are closed. Happy Presidents' Day, ya filthy animals.
TUESDAY, 2/22
Caesars, Home Depot, Macy's, and Virgin Galactic report results.

Consumer confidence data is released.
WEDNESDAY, 2/23
Allbirds, Barclays, Hertz, Lowe's, Molson Coors, and TJX earnings drop.

Zuck is giving a presentation in the metaverse... which means like four people will be tuning in.

Ford CEO Jim Farley will sit down for a fireside chat with Wolfe Research and everyone will be hoping for commentary on Ford's plans to split the company.
THURSDAY, 2/24
Alibaba, Anheuser-Busch, Beyond Meat, Coinbase, and Moderna report.

Weekly jobless claims released per usual.

We'll get the second reading of Q4 real GDP.
FRIDAY, 2/25
Personal consumption expenditures data report drops.

Consumer sentiment data is released.
SATURDAY, 2/26
Berkshire Hathaway reports.
© 2022 Barstool Sports, Inc. All Rights Reserved