Hey there Weekday Warriors,
Another wild week has come and gone. Markets continue to try and gauge wtf is happening in Ukraine.

Meanwhile, we've got some big inflation data and the first major Apple event of the year this week.

Enjoy the next 3 minutes and 57 seconds.

Snap necks and cash checks,
Tyler
Past performance does not guarantee future results...
The top 5 stories from the past week.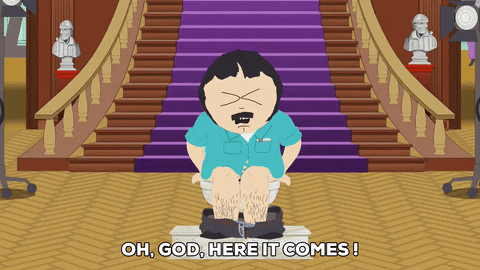 Source: Giphy
1. Here it comes

On Wednesday J-Poww took (almost) all the suspense out of the Fed's upcoming meeting, all but promising a 0.25% rate hike. And in case you were concerned, according to Jay, the Fed will start trimming its massive balance sheet once rate hikes have begun.



2. More sanctions

On Monday Joey Politics made it rain sanctions on Russia's Central bank. The power move will freeze assets Putin could try to use to prop up the Russian economy as this sh*tshow drags on.



3. Message received

Apple is banning sales of its products in Russia. Go ahead, try to win a war without the compass app. Any blue bubble bois looking to buy products on Apple's Russian site were hit with a "Delivery: currently unavailable" message.



4. "Best I can do is a re-org..." - Ford CEO, Jim Farley

Ford announced on Wednesday that it would split its legacy and electric vehicle operations into separate units under the Ford umbrella. The ICE biz will be called Ford Blue, while the EV ops will be dubbed Ford Model e.


5. Grower and a shower

February's jobs report dropped on Friday, and the US economy made economists look like a bunch of beta bois. Non-farm payrolls grew by 678k vs. 440k expected. Even the unemployment rate beat the Street's estimates (3.8% vs. 3.9% expected).
Forward looking statements...
What we're keeping an eye on in the week(s) ahead.
THIS WEEK
Pew, pew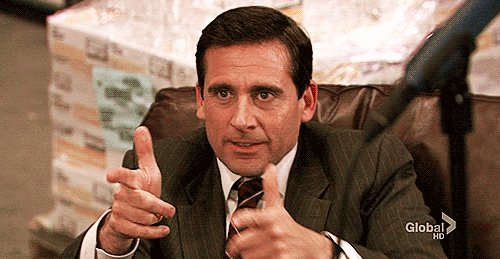 Source: Giphy
Everybody's gangsta until Russian forces start shelling the largest nuclear power plant in Europe...

Pretty much everyone with a Twitter account and vague recollection of Fukushima had their eyes glued to the Ukrainian nuclear power plant that came under attack late Thursday.

It appears, for now, at least, that crisis has been averted. But that doesn't mean markets didn't lose their collective sh*t. The US oil benchmark jumped 7.4% on Friday, closing above $115 for the first time since 2008.

So, what can we expect next week?

Probably lots of Karens asking to speak to the manager at the local gas station when they find out how much it costs to fill up their 2016 Chrysler Town & Country. The average price per gallon of regular unleaded (can you still buy leaded?) in the US hit $3.83 on Friday. That was an 11 cent jump from Thursday.

And analysts expect more of the same next week, with estimates easily topping $4 per gallon.

Rising crude prices also threaten to put upward pressure on already out of control inflation. Energy costs are a huge driver of inflation... and can have a negative impact almost immediately. No pressure, J-Poww.

Of course, all bets are off should the US and its allies go nuclear (read: ban imports of Russian oil). Although, in the near term Europe's dependence on Russian fossil fuel makes that damn near impossible. And getting additional US capacity back online could take months.
MONDAY
Kohl world
On Monday, Kohl's is hosting a virtual investor day... presumably because it's easier to feign "technical issues" if someone starts asking the hard questions on Zoom. Isn't that right, Mark Minervini?

Of course, the official uniform provider of middle managers hopes the meeting will be a victory lap following an earnings report that got investors hot and bothered. Despite missing on the top line, the company beat EPS expectations. It also topped guidance projections.

But what everyone will be listening for is how the brick and mortar retailer is dealing with the elephant in the room: activist investors that want the company to sell itself. Kohl's has already turned down multiple buyout offers and has one investor seeking a board seat.
TUESDAY
It's called innovation, ever heard of it?
Today in things that only matter to people who cosplay... Apple will host its first product event of the year this week.

In addition to Tim Apple inexplicably standing in a field, rumor has it that during the event titled "Peek Performance" AAPL will unveil new Macbooks and iMacs that feature its in-house chips.

But the product investors are looking forward to most is the more affordable 5G iPhone SE for all the peasants who'd rather use an Android than be caught on a 4G network.

And in all likelihood another Apple event will pass without an Apple car reveal. You hate to see it.
THURSDAY
"I'm about to say 'inflation is out of control' so mf loud."
- pretty much everyone at CNBC

This week the Bureau of Labor Statistics will drop the February Consumer Price Index report (read: inflation). And it's expected to be an absolute dumpster fire.

The bad news is that analysts expect 7.8% year-over-year price hikes. That's above even January's 7.5% sh*tshow.

The good news is that the Fed probably won't give a damn. Not only because it's not their preferred inflation indicator, but because they're already keenly aware of how much of a disaster inflation is. In fact, J-Poww has all but promised that the Fed plans to hike rates at its March meeting.

That means, unless inflation comes in significantly higher, there's next to no chance markets overreact to the news.
Mark your calendar...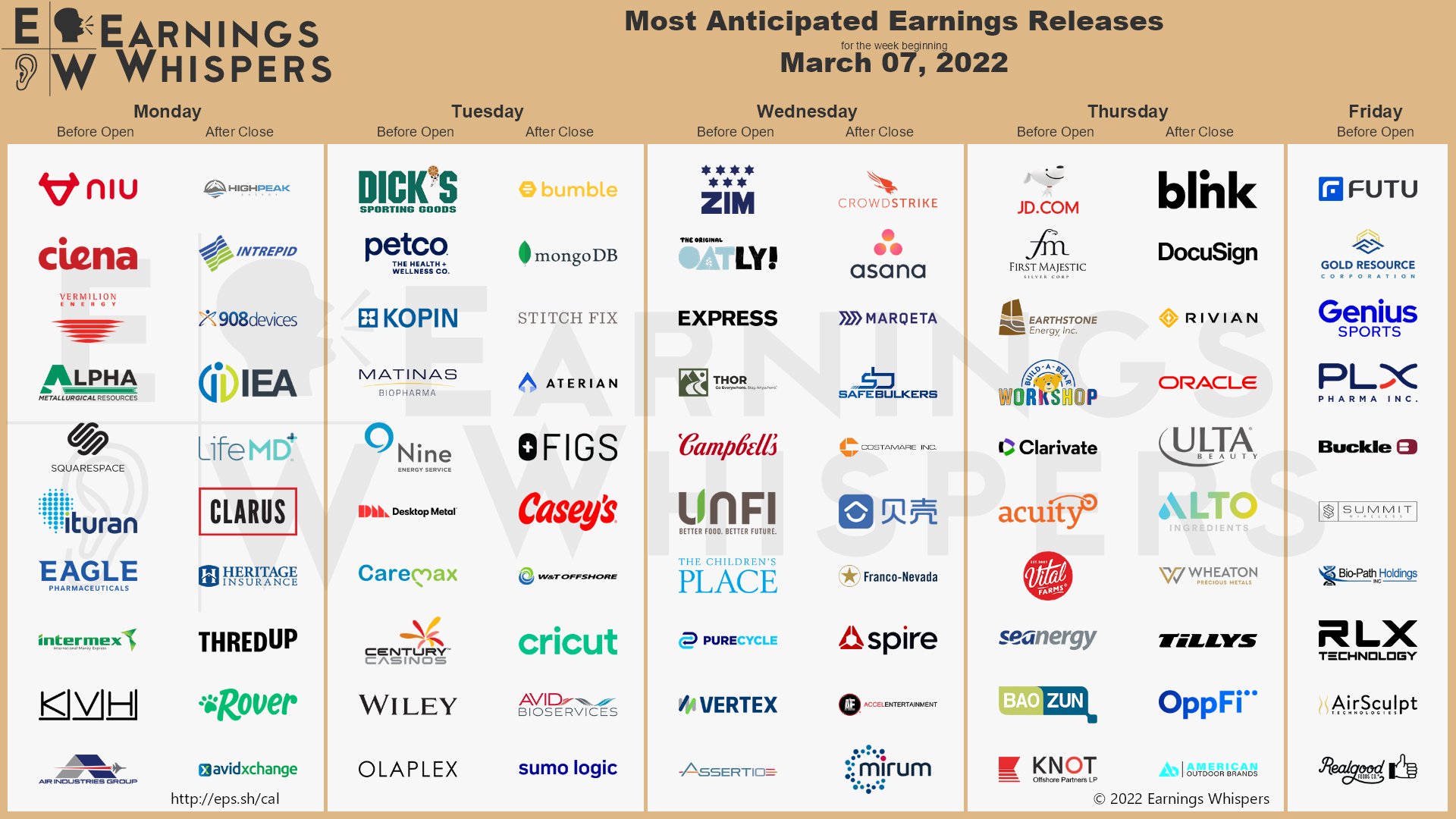 Source: Earnings Whispers
MONDAY, 3/7
Squarespace reports.

Consumer credit data drops.
TUESDAY, 3/8
Bumble, Dick's Sports Goods, and Stitch Fix report quarterly results.
WEDNESDAY, 3/9
Asana, Crowdstrike, and Oatly earnings drop.

The Job Openings and Labor Turnover Survey (JOLTS) is released.
THURSDAY, 3/10
DocuSign, Rivian, and Ulta Beauty report.

Weekly jobless claims released per usual.

The Bureau of Labor Statistics drops the consumer price index report.
FRIDAY, 3/11
Consumer sentiment data is released.
© 2022 Barstool Sports, Inc. All Rights Reserved