Hey there Weekday Warriors,
While you were busy worrying about a nuclear power plant burning in Ukraine, there were more important things going on... like an unprofitable salad chain mooning.

Enjoy the next 4 minutes and 21 seconds of blue-chip news and commentary.

Snap necks and cash checks,
Tyler

PS, if you want my real time takes, get at me on Twitter at @JPMorinChase. For anything else, shoot me an email at tyler.morin@barstoolsports.com.
Let's check in on the markets...
DOW -0.29% (-7.63% YTD)
S&P 500 -0.53% (-9.03% YTD)
NASDAQ -1.56% (-14.49% YTD)
10-YEAR YIELD (1.84%)
You know the drill... "markets try to assess situation in Ukraine."


What about the meme stonks?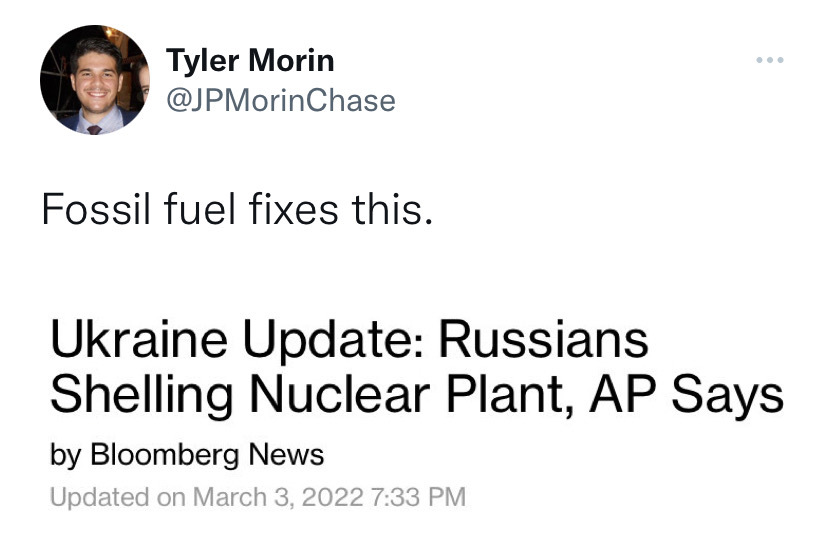 Source: @JPMorinChase
STONKS
1) Tesla ($839.29) -4.61%
2) Costco ($533.05) +0.96%
3) Rocket Cos. ($13.98) +1.30%
COINS
1) Bitcoin ($41.9k) -4.24%
2) Ethereum ($2.79k) -5.02%
3) Dogecoin ($0.12832) -3.04%
1) Reflects 3 most discussed meme stonks over the past 24 hours
2) Sh*tcoin prices as of 4 PM EST
SWEETGREEN
I remember my first earnings report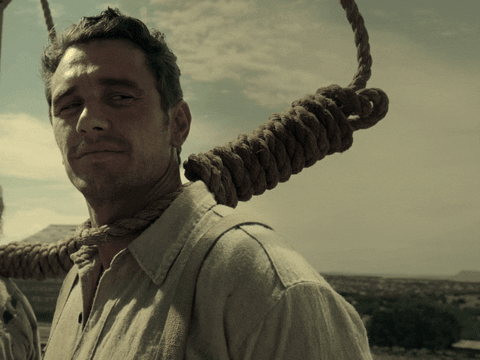 Source: Giphy
"What's not to like about a wildly unprofitable salad chain?" - Sweetgreen investors

Sweetgreen reported earnings for the first time since its IPO late last year, and investors liked what they saw. The salad bar masquerading as a tech company posted massive sales growth. Net sales rose 63% to $96.4M, beating expectations easily.

SG pointed to an increase in orders, but also mentioned that hiking prices on the already overpriced salads did the top line a solid.

Surely, that flowed through to the bottom line, right?

Nope. The chain's Q4 loss ballooned to $66.2M vs. $41.1M in the same quarter last year. Unsurprisingly, the company blamed the rising cost of "salad artists."

Go ahead and find an unprofitable publicly traded restaurant... I'll wait...

Sweetgreen is in a league of its own. And I mean that in the worst way possible. Chipotle for people who say things like "my body is a temple" has yet to make a profit and doesn't expect to do so any time soon. That's almost unheard of for publicly traded restaurant chains.

The company expects a loss of between $33M and $40M in 2022 on revenue between $515M and $535M. On the plus side, the sales projections easily beat Wall Street's estimates.

The stonk jumped 17% after hours, which is great news for all of the Murray Hill bros that invested part of their trust fund in SG's IPO. Shares are down nearly 50% from its IPO price.

Water Cooler Talking Point(s)...

"It's all fun and games until someone gets E. coli." - Tyler, The Water Coolest HQ

❓ Check out today's EXIT INTERVIEW (see the bottom of this email). We're talking salad spots today...
TESLA
Challenge accepted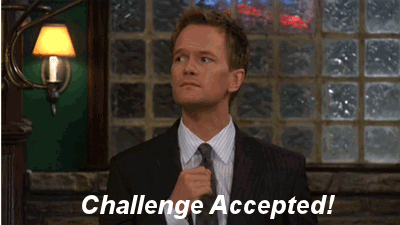 Source: Giphy
Late Wednesday Elon tweeted "I'd like hereby to invite UAW to hold a union vote at their convenience. Tesla will do nothing to stop them."

That was in response to a Twitter post by President Biden showing love for two unionized automakers (spoiler: Ford and GM).

The pro-union president and Elon, who's not about that life, have been beefing for some time. And by that I mean Elon has been calling out Joey Politics for not giving Tesla any props.

Despite being the most successful EV maker in the world (in terms of production and investment) POTUS has purposely failed to include Tesla in the same breath as Ford, GM and even Stellantis. Of course, it's probably also worth noting that none of those companies are run by someone that once told Bernie Sanders "I keep forgetting that you're still alive."

Should Elon be worried?

Maybe. But probably not.

A Gigafactory unionizing would be a BFD. Not only could it threaten Tesla's bottom line, but it would be a huge W for unions in the US.

But according to the most prolific tweeter in the game, Tesla has nothing to worry about. Elon claims that Tesla already pays industry leading wages and treats employees well. Read: he isn't too concerned that employees will vote to unionize. Of course, that might be because he'll fire anyone that's leading the charge (something he's been accused of in the past).

Even if there is a union drive at one of Tesla's factories, workers will still need to decide if they want to pull the trigger. And if the Amazon Alabama fulfillment center union vote is any indication, money can't buy happiness, but it can certainly buy a union election.

Water Cooler Talking Point(s)...

"Am considering letting Tesla unionize. Voting secured." - Elon, probably
PERSONAL FINANCE

+ 'Rest in peace, dear comrade' — on Russian TV, analyst toasts to the end of the country's stock market (Read)

+ Bobbleheads May Be the Next Big Thing. Gun Sales Suffer. (Read)

+ Intel Stock Is Still Struggling. Here's Another Way to Play Chips. (Read)

+ 3 Supercharged Growth Stocks Billionaires Can't Stop Buying (Read)

+ Yesterday's most read... These two energy companies are shoveling cash to investors and their stock prices are cheap (Read)
TALKING SHOP
"Play stupid games, win stupid prizes." - anyone that reserved a Rivian
Rivian had a crazy idea: raise prices and blame it on inflation.

What the carmaker didn't count on was buyers calling bullsh*t on the ~20% price hikes. Customers began cancelling their reservations en masse, although exact details weren't shared.

How can we be so sure there was a mass exodus? Well, because Rivian reversed course and apologized. Rivian said it would honor original pricing for anyone that had reserved before March 1st and give those who cancelled the option to reinstate their reservation at the original price.

And the company is already paying the price for the faux pas. Shares dropped 4.2% and analysts fear the cancellations could be significant enough to negatively impact future earnings.
"Thanks Yzy." - GAP
Not only does the GAP still exist, but apparently a ton of people still shop there...

Shares of the company that also owns Old Navy and Banana Republic climbed 7.5% after it reported earnings. GAP easily bested analyst's incredibly low expectations for earnings (loss of 2 cents per share vs. loss of 14 cents expected). Revenue also topped estimates ($4.53B vs. $4.49B).

But what really got investors fully chubbed was a surprisingly healthy full year 2022 outlook. Zuck's preferred hoodie maker expects to earn between $1.85 and $2.05 per share for the year. Analysts' consensus was just $1.86.

It's probably just a coincidence that GAP is culturally relevant for the firs time in a half a century thanks to Ye.
ANYTHING ELSE?
+ Looks like it wasn't just the creepy emails Bill Gates was sending to Microsoft employees that made his now ex-Melinda go all "ight imma head out." According to Melinda, Billy G's relationship with Jeffrey Epstein factored into her decision to file for divorce. (Read more)

+ These are not your father's war bonds. Ukraine is allegedly going to launch an NFT collection to raise money for its armed forces. (Read more)
EXIT INTERVIEW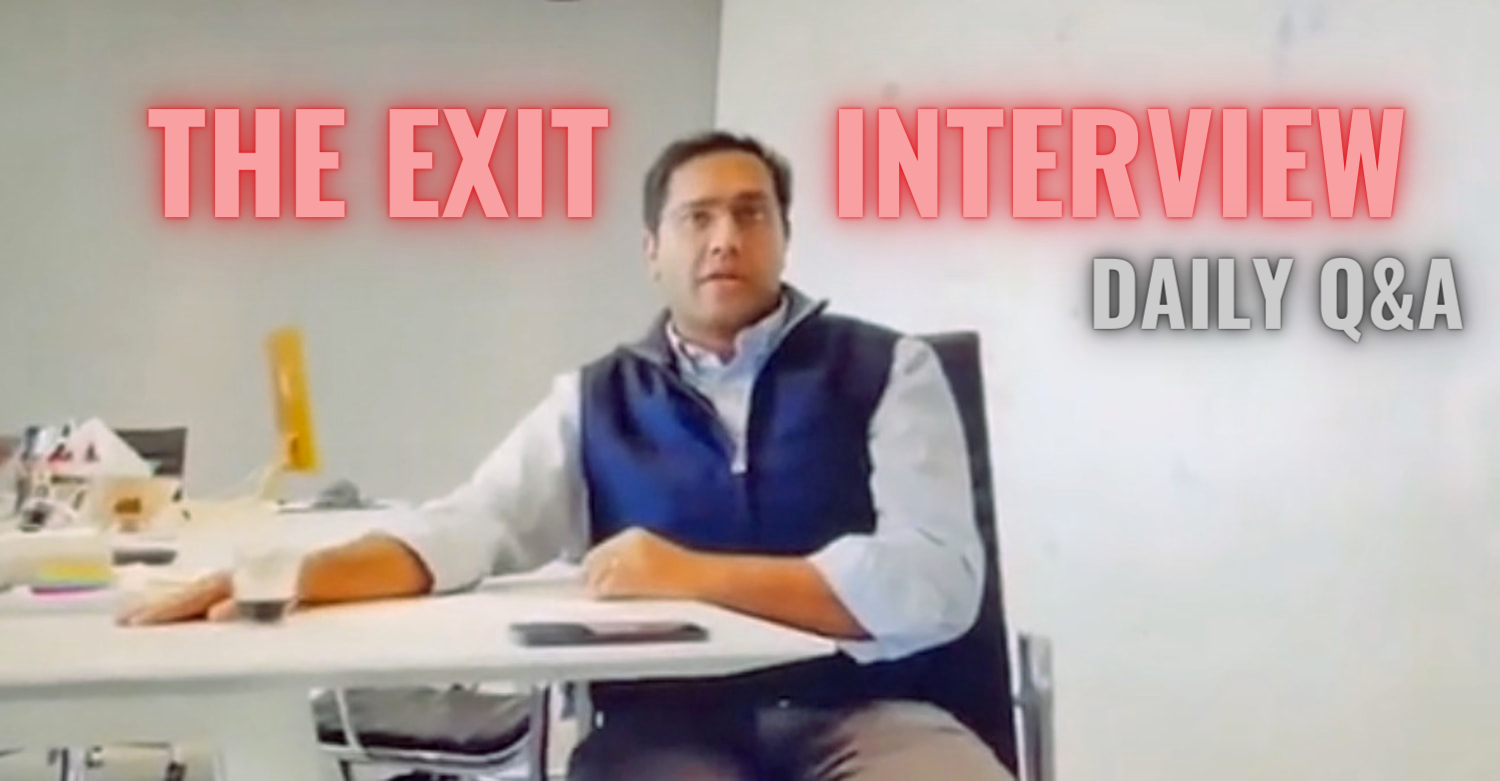 Yesterday I asked...

What's Chris Farley's best movie?

64.1% of weekday warriors responded Tommy Boy
11.1% responded Black Sheep
10.8% responded Billy Madison
8.1% responded Beverly Hills Ninja
5.9% responded Almost Heroes

Sorry, you guys, SNL is not a movie.

Here's today's question...


What's the best salad chain in the game?
☑️ Chop't
☑️ Sweetgreen
☑️ Fresh & Co.
☑️ Hale and Hearty
☑️ Saladworks
☑️ Freshii
☑️ Other (reply directly to this email)
© 2022 Barstool Sports, Inc. All Rights Reserved