Hey there Weekday Warriors,
What a time to be alive...

Investors were rattled this week as they tried to figure out WTF is going on in Europe. And it's probably safe to assume we'll see more of the same as this sh*tshow drags on.

Buckle up, you guys.

Enjoy the next 4 minutes and 2 seconds.

Snap necks and cash checks,
Tyler
Past performance does not guarantee future results...
The stories from the past week that will have the biggest impact going forward.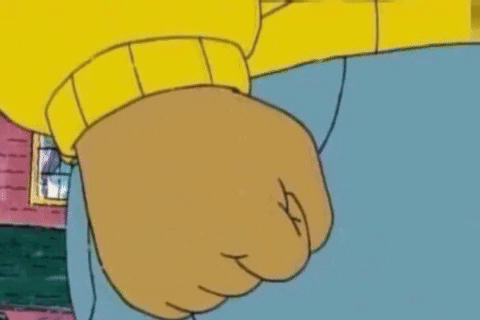 Everybody is big mad at Vlad... (Source: Giphy)
▶️ Monday, 2/21: Markets were closed for Presidents' Day... but Vladimir Putin certainly didn't take the day off...

▶️ Tuesday, 2/22: President Biden had about enough of Russia's malarkey. On Monday Vladimir Putin sent Russian "peace keeping" troops into two separate regions of Ukraine occupied by Russian rebels.

POTUS responded by declaring economic war on Russia. During his Tuesday afternoon presser, the Commander in Chief laid out a laundry list of sanctions.

American financial institutions will no longer be able to process transactions for Russia's state development bank or its military bank. Russia also won't be able to hawk its sovereign debt in the US or pretty much anywhere in Europe. POTUS also outlined plans to sanction Putin's inner circle.

▶️ Wednesday, 2/23: During a virtual conference (read: the worst kind of conferences) Ford CEO Jim Farley said he has no intention of splitting Ford into two companies.

Analysts have been calling for $F to break up into two entities: one producing internal combustion engines and one making electric whips. It'll unlock value, they said...

Farley pointed out that Ford's broader operations would be critical to an EV biz, and splitting it off could be complex and costly.

▶️ Thursday, 2/24: After a slap on the wrist failed to deter Putin's advances earlier in the week, Joey Politics and Co. responded with "harsher" sanctions on Russia.

Four more banks, including the country's largest will have all of their assets in the US frozen. And now, in addition to the government, no state owned Russian companies will be able to raise money from the US or Europe. The new punishments also include cutting off high-tech imports and sanctioning more of Putin's friends and family.

Some think the US could have gone a step further by kicking Russia out of the SWIFT payment network.

▶️ Friday, 2/25: Bah gawd, that's the Dow's music.

Following its nearly 800 point comeback on Thursday, the Dow posted its best day since November 2020, closing up 834 points, or 2.5%. Still, the index was down slightly on the week.

The S&P 500 and Nasdaq also had themselves a Friday, jumping 2.2% and 1.6%, respectively. It appears that investors caught their breath and realized that maybe, just maybe, they overreacted a little bit.
Forward looking statements...
What we're keeping an eye on in the week(s) ahead.
THIS WEEK
Probably nothing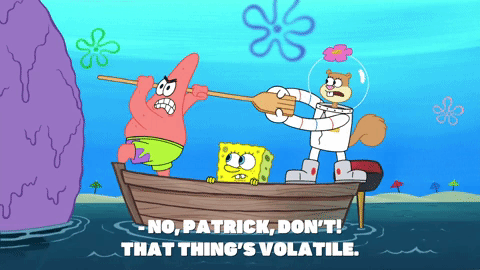 Source: Giphy
Remember when 'rona boi was the biggest market catalyst? Bring me back...

As markets try to digest news coming out of Ukraine, we're seeing some next level volatility. Case in point: the Dow, which was down more than 850 points in early trading, closed up 92 points on Thursday. Then on Friday, the DJIA finished up 800 points

*The VIX has entered the chat*

It's pretty, pretty safe to assume we'll get more of the same this week as Vlad Putin continues to play a high stakes game of RISK in real life.

The Fed

Of course, Vlad and the Ghost of Kyiv aren't the only ones that could have markets going all Kanye when someone mentions "Skete" (read: batsh*t). J-Poww has two big meetings on his Outlook calendar. On Wednesday he'll talk with the House Committee on Financial Services and the Senate Banking Committee on Thursday.

The semi-annual meetings give lawmakers the opportunity to pretend they know what the Fed does and grill the Head Central Banker about the economy. Up until last week (see: Putin invades Ukraine) most investors saw it as an opportunity to gather intel on if the Fed planned to raise rates by 25 basis points or 50 basis points during its March meeting.

Of course, now, analyst's will be hanging on every one of Jerry's words to see if WWIII has impacted the Fed's decision at all. Spoiler: it probably won't...

Jobs report

The February jobs report that's set to drop on Friday probably won't impact the Fed's decision either. January's report surprised to the upside (467k vs. 150k) and expectations are sky-high for February (400k).

At this point J-Poww appears to give zero f*cks about jobs. Employment figures have mounted enough of a comeback that inflation is the only thing keeping Jerry Interest Rates up at night.
THIS WEEK
WeF*ckedUp
WeWork is the gift that keeps on giving.

Turns out a staffing issue and some legalese could allow Adam Neumann to weasel his way back onto the board of WeWork. You might recall that he lost his right to vote back in 2019 after nearly destroying the company. At that time he became a board "observer." Read: he could look, but he couldn't touch.

As part of a 2021 deal with SoftBank he lost the option to be in view-only mode. But, yesterday, that stipulation expired. He's now eligible to ask Masa Son politely if he can get his spot on the board back. If Masa and Co. deny the request, Neumann can nominate someone else (read: his wife).

And it might not be that crazy to think that the man who aspired to be the first trillionaire in the history of the world will return to the promised land. Currently, WeWork is down a board member... a Chairman to be more specific. Softbank's COO (and WeWork chair) recently gave his two weeks notice to Masa, and the company has yet to name a replacement.

Stranger things have happened, you guys...
THIS WEEK
BrOPEC
Oil has been a menace to society over the past week. Both the US and international benchmarks climbed above $100 a barrel as tensions rose in Eastern Europe.

Which will put even more pressure on OPEC+ when it meets on Wednesday. Currently, the O&G OGs' plan is to increase supply by about 400k barrels per day. You might remember that POTUS and other world leaders have been begging OPEC+ to increase supply to help bring down fuel prices.

But volatility caused by the situation in Ukraine isn't the only thing OPEC will have to consider. It seems unlikely, considering the EU's dependence on it, but sanctions on Russia's oil could be on the table should this thing drag on.

Plus, the US appears close to a nuclear deal with Iran which would allow it to return 1M barrels to the market.
Mark your calendar...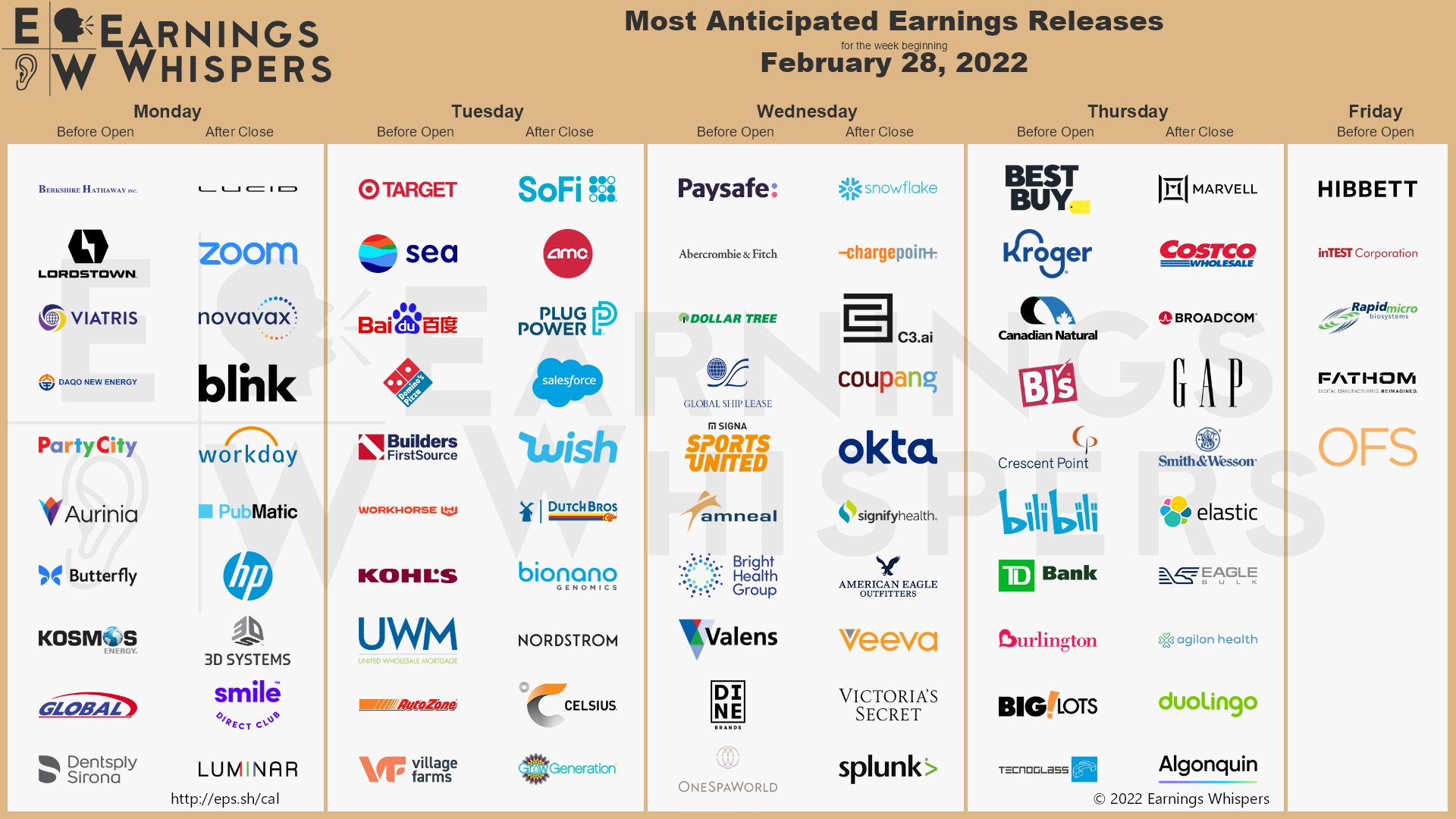 Source: Earnings Whispers
MONDAY, 2/28
Lordstown, Lucid, and Zoom report.
TUESDAY, 3/1
AMC, Domino's, Salesforce, and Target report quarterly results.

WEDNESDAY, 3/2
Dine Brands, Dollar Tree, Just Eat Takeaway, and Snowflake earnings drop.

ADP's (completely useless) employment report is released.

J-Poww heads to Capitol Hill for his semi-annual hearing with the House Committee on Financial Services.

OPEC+ gets together to discuss output.
THURSDAY, 3/3
BJ's, Broadcom, Costco, and Sweetgreen report.

Weekly jobless claims released per usual.

Jerry Interest Rates is back in DC for his semi-annual touch base with the Senate Banking Committee.

DraftKings holds an investor day.
FRIDAY, 3/4
The Bureau of Labor Statistics drops the official February jobs report.

Apple holds its general meeting. It could be interesting considering proxy firm ISS recommends voting against Tim Cook's comp package.
© 2022 Barstool Sports, Inc. All Rights Reserved