Hey there Weekday Warriors,
Walmart and a few others will wrap up a wild earnings season this week.

Which means all eyes will really be on the "situation" in Ukraine and interest rates. The good news is that if WWIII escalates quickly, we won't have to worry about interest rates during a nuclear winter...

Enjoy the next 4 minutes and 6 seconds.

Snap necks and cash checks,
Tyler

PS, if you need real-time biz and markets commentary in your life, follow me on Twitter (@JPMorinChase). For pretty much anything else, shoot me a note at tyler.morin@barstoolsports.com.
Past performance does not guarantee future results...
The stories from the past week that will have the biggest impact going forward.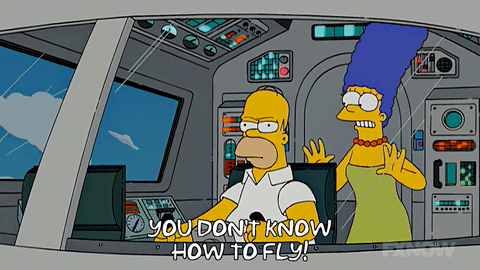 Source: Giphy
▶️ Monday, 2/7: The nation's "leading" ultra-low fare air carriers are merging. And no penny-pinching flier is safe from being bent over by Frontier and Spirit's hidden fees and sub-human travel conditions.

The deal is valued at $6.6B and will give Frontier a controlling interest in the combined company (51.5% vs. 48.5%).

▶️ Tuesday, 2/8: Power couple, Ilya Lichtenstein or Heather Morgan, were arrested for trying (and failing miserably) to launder a Mt. Gox sized piled of sh*tcoins (90k bitcoins worth $3.6B at the time of seizure, to be exact).

The Department of Justice claims the modern day Bonnie and Clyde were attempting to launder the 120k bitcoins stolen during a Bitfinex hack in 2016. For what it's worth, the two have not been accused of the actual hack.

▶️ Wednesday, 2/9: Disney just sent the streaming industry (mostly Netflix) a friendly reminder that it's playing 3-D chess and everyone else is playing checkers.

Disney+ ended the quarter with 129.8M subs vs. 125.7M expected... which shouldn't come as much of a surprise if you've seen 'Encanto'. And if you haven't, what are you doing with your life, you uncultured swine?

You might remember that Netflix's most recent earnings were more disappointing than Blink 182's set at Fyre Fest. Shares of the FAANG fell more than 20% after it reported slowing subscriber growth.

▶️ Thursday, 2/10: Inflation is experiencing the type of hockey stick growth SaaS startups would be jealous of...

The Consumer Price Index rose 7.5% in January compared to the same period last year.

The last time the reading was that high your dad was probably still trying to finger bang chicks that weren't your mom (read: 1982). The month-over-month inflation reading was equally as girthy, hitting 0.6%.

▶️ Friday, 2/11: If US intelligence is right, war in Eastern Europe is imminent. You've been warned, able-bodied men and women over the age of 18.

See 'Bombs over Kyiv' below for more...
Forward looking statements...
What we're keeping an eye on in the week(s) ahead.
THIS WEEK
Bombs over Baghdad Kyiv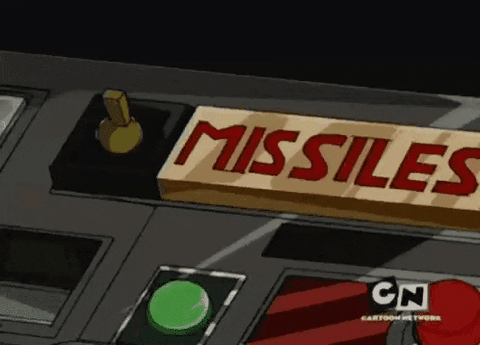 Source: Giphy
Fears of Ukraine catching hands has the paper hands doing what they do best…

All three US indices sold off in a major way on Friday on news that US officials think Vladimir Putin is about to shoot first and ask questions later.

According to National Security Advisor Jake Sullivan, Russian forces (excuse me, ROC forces) could launch an invasion before the end of the Olympics. Because apparently the US government has abandoned the Gregorian calendar in favor of using the schedule for an international sporting event no one is watching...

Sullivan spilling the tea like some sort of Perez Hilton with National Security clearance sparked a selloff in the final two hours of trading. The Nasdaq was hit the hardest, falling 2.78% on the day.

Oil also moved on the news, rising more than 5% to $94.66. That's the highest level since 2014. Apparently, the only thing Russian tanks like more than laying waste to some hapless Ukrainians is mainlining fossil fuels.

As long as mutually assured destruction is on the table, investors will overreact to news and rumors. So, we can likely expect more of the same from markets this coming week.

Of course, it's worth keeping in mind that a majority of the markets' concern likely (read: certainly) still revolve around last week's inflation data as investors jockey to right size their portfolio for [insert proposed number of rate hikes here] hikes.
TUESDAY
"Mark, I think you're on mute."
Hopefully Zuck's all hands goes better than the Peloton company-wide meeting that kept getting interrupted by disgruntled ex-employees.

On Tuesday Zuck will log on to whatever piss poor Zoom knockoff Facebook built to share his plans for the metaverse with FB's employees. And the best part is some snitch will definitely leak all the juicy deets in real time...

We probably shouldn't expect too much from an internal meeting, but if there was any time to "leak" some impressive details, it would be now. Facebook shares are down 33% in the last month.
WEDNESDAY
One minutes man
The FOMC meeting minutes are usually written off as stale considering they are weeks old. But as we learned the hard way in January, it only takes a few words to send markets spiraling.

The Minutes for the December meeting indicated the Fed would begin winding down its balance sheet after raising rates. J-Poww failed to mention that in his post-meeting presser. That news caused the Dow to fall nearly 400 points.

Which is why investors (read: their interns) will be poring over the Minutes from the January meeting when they drop on Wednesday.

What will everyone be looking for? Mostly clues on the number and frequency of rate hikes. Of course, given the most recent inflation data, any intel might be worthless at this point...
MARCH
Speaking of rate hikes...
*Double checks Goldman's math*

Goldman's best and brightest predicted on Friday that the Fed will raise rates seven times in 2022. That's right, the Mrs. Cleos with Ivy League degrees see the Fed Funds rate ending the year at 1.75%.

Interestingly, the masters of the universe at GS believe the Fed will hike by 0.25% seven times. Many economists (ok, mostly random Twitter eggs) believe J-Poww might start off his rate hike spree with a 50 basis point jump.

The one thing most analysts agree on is that the Fed needs to raise rates quickly to help crush the worst inflation since the '80s.
Mark your calendar...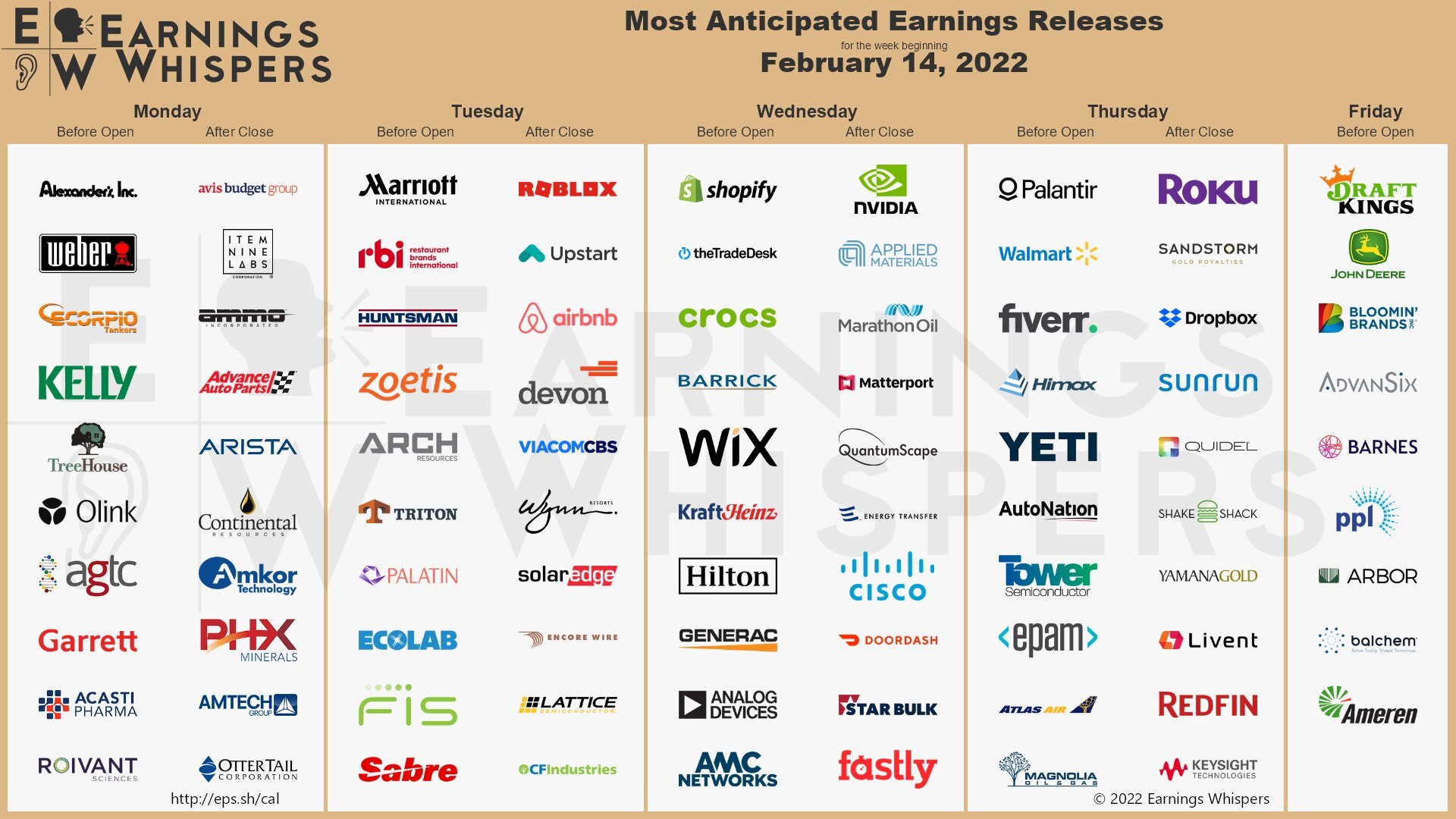 Source: Earnings Whispers
MONDAY, 2/14
Avis and Weber report.
TUESDAY, 2/15
Airbnb, Roblox, and Viacom report results.

The Producer Price Index, another inflation gauge, is released.

WEDNESDAY, 2/16
Cisco, DoorDash, Kraft Heinz, and Nvidia earnings drop.

The Fed Minutes are published.

Retail sales report.

THURSDAY, 2/17
Palantir, Roku, and Walmart report.

Weekly jobless claims released per usual.

FRIDAY, 2/18
Deere and DraftKings report.
© 2022 Barstool Sports, Inc. All Rights Reserved